Due to the Covid19 crisis we have reduced our beer menu.
Please understand
*** Only 1 paiement per table ***
Tap on your beer for more info
Campus - 5%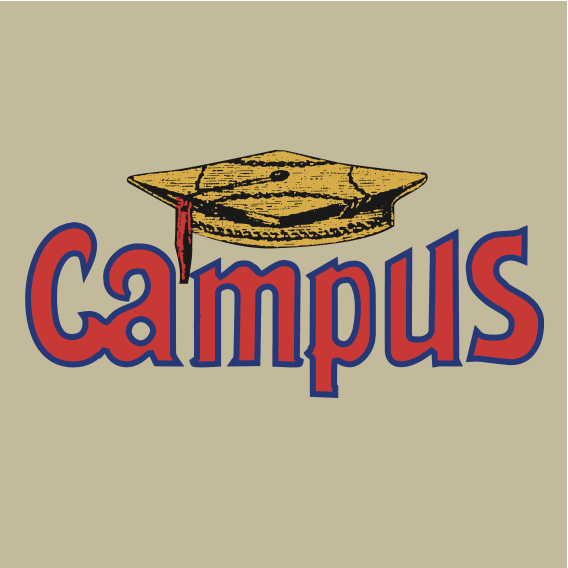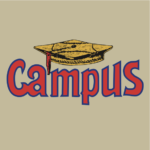 Huyghe Brewery
25cl – €2,50
50cl – €4,90
1l – €9,80
2l – €19,50
Light malt sweet, pleasant bitterness, balanced and rich flavour. Slightly sweet and bitter aftertaste towards the end. Light golden colour, compact and fine foam, good lacing
Delirium Tremens - 8.5%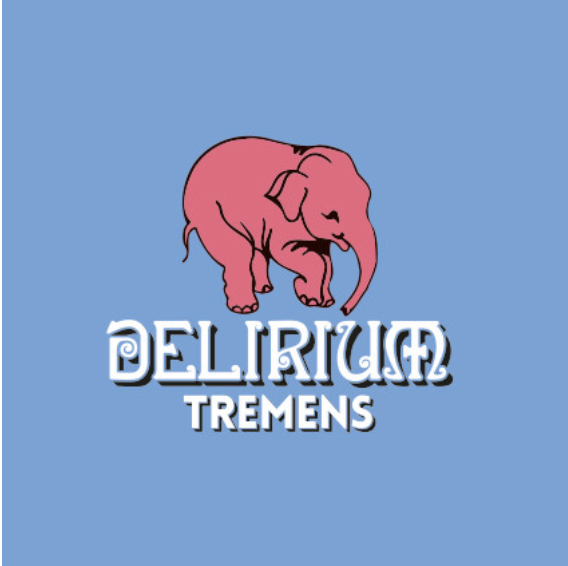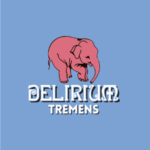 Huyghe Brewery
25cl – €4,00
50cl – €7,90
1l – €15,80
2l – €31,50
Feels like the sound shot of alcohol is igniting the mouth. In reality the tongue and palate are warmed. The taste is characterized by its roundness. The aftertaste is strong, long tasting and dry bitter.
Delirium Red - 8%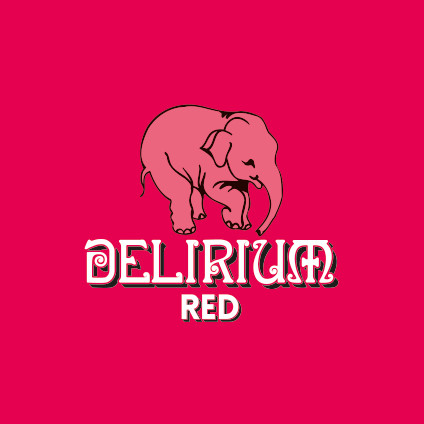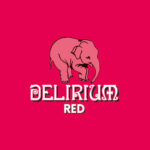 Huyghe Brewery
25cl – €4,00
50cl – €7,90
1l – €15,80
2l – €31,50
Deep dark red colour, with a light pink, compact and lacing head. Sweet and fruity flavour, with a nice balance between sweet and sour. An excellent dessert beer. Soft fruity aromascent, with hints of almond and mildly sour cherries.
St. Bernardus Abt 12 - 10%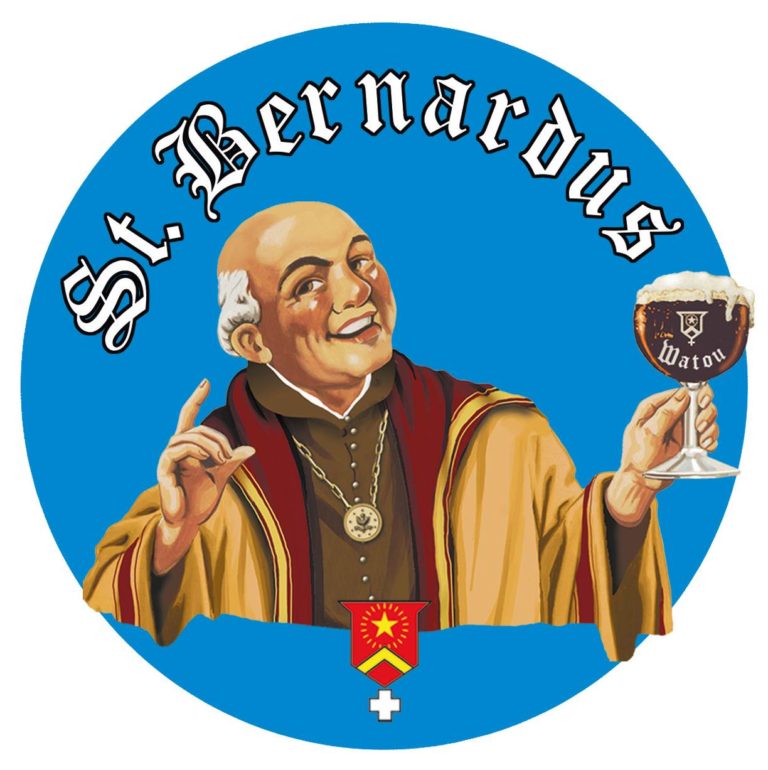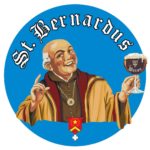 St. Bernardus
25cl – €4,10
50cl – €8,10
1l – €16,20
2l – €32,30
St. Bernardus Abt 12 is considered one of the best beers in the world. Deep dark 'Quadrupel' with a full, ivory-colored head, a fruity aroma, complex flavours, a long bittersweet finish and hoppy bite. Has a full-bodied taste and finds the perfect equilibrium between malty, bitter and sweet.
Martin's New England IPA - 3.5%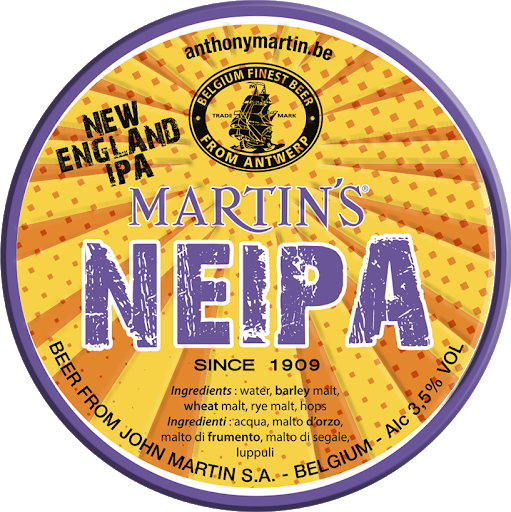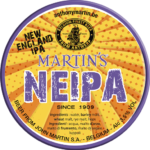 John Martin
25cl –€4,10
50cl – €8,10
1l – €16,20
2l – €32,30
St. Bernardus Abt 12 is considered one of the best beers in the world. Deep dark 'Quadrupel' with a full, ivory-colored head, a fruity aroma, complex flavours, a long bittersweet finish and hoppy bite. Has a full-bodied taste and finds the perfect equilibrium between malty, bitter and sweet.
Cuvée des Trolls - 7%
Dubuisson
25cl – €3,00
Golden in colour with a firm fluffy white head that was attractively creamy on top Citrus dominated the early aroma, which seemed to disappear quickly and leave a mellow berry aroma.
Blanche de Namur - 4.5%
Bocq
25cl – €3,00
Wonderfully tart and bombastic Belgian witbier. The taste is long and the bitterness very well balanced with acidity and sweetness. Recommended for those who like wheat beer.
Lion 5 - 5%
Brasserie Lion
25cl – €6,00
Lion 5 is a refreshing, certified organic fine white beer. It is made with passion from the best organic hops from Europe and America as well as organic hops grown in Belgium. It is composed of orange peels and coriander to create a fine fruity note of malt and hops specially selected for finesse, light bitterness and the particular brightness it gives to beer.
Artevelde Grand Cru - 7.3%
Huyghe
33cl – €4,70
Artevelde Grand Cru features a dark red-brown colour, a firm, creamy, and cream-coloured head. The smell of roasted malt, caramel and the sweet fruitiness of the alcohol give this beer the perfect aroma. Caramel, sweet fruitiness and a pleasant bitterness are the predominant flavours. Its aftertaste reveals a pinch of toffee and date. Ingredients: water, barley malt, hops, yeast. Triple fermented.
Aubel Triple - 9%
Grain d'Orge
33cl – €4,70
The Aubel Triple is a golden lager with herbaceous flavors, the perfect balance between sweetness and bitterness.
Barbe Black - 7.5%
Verhaeghe
33cl – €4,70
Clear dark red brown colour. Aroma is moderate to heavy malty, roasted, caramel and tobacco. Heavy sweet and bitter favour with a long duration.
Barbar Blonde - 9.5%
Lefebvre
33cl – €4,00
Fresh tasting honey which, although sweet, is not clowing. Coriander taste and smell. Delicate citrus aroma hops leaving a yeasty softness.
Barbe Ruby - 8.5%
Verhaeghe
33cl – €4,90
Aroma is moderate to heavy cherry, marzipan – almond and some cherries. Moderate to heavy sweet flavour with a long duration, marzipan, cherry, tart cherry, cherry sauce. 
Barbe Rufa - 8%
Verhaeghe
33cl – €3.90
Barbe Rufa is amber red coloured and has quite a full and creamy head. This beer has a beautiful body and a wonderful aroma . It has a low bitterness that keeps the balance with a relatively malty sweetness.
Belge la Binchoise - 5.9%
Binchoise
33cl – €5,70
Special belgian beer,amber,refermented in bottle,that has been refrershed and modernized thanks to a subtle dry hopping.hoppy nose as it should be,signing the touch of modernity wanted by our Master Brewer.At the first sip,a frank and pleasant bitterness invades the palate,like a call to enjoy a second sip without delay
Bersalis Kadett - 4.5%
Oud Beersel
33cl – €4,10
Bersalis Kadett is a light and refreshing top fermented beer full of flavour. The noble taste of barley malt is crowned with fruity touches and a hoppy character.
Bobeline Triple - 8.5%
Bobeline & Cie
33cl – €5,60
Aroma of sweet riped fruits, peach, typical belgian yeast. Taste of sweet yellow fruits, peach, pineaple, some apricot, belgian yeast, medium carbonation
Boteresse Blonde - 7.5%
Brasserie la Botteresse
33cl – €5,40
This lager is brewed with Pale Ale barley malts and wheat (malt and flakes), it is a lager or white beer if served with the lees. Fruity and spicy beer. Medium bitterness.
Buffalo Bitter - 8.5%
Van Den Bossche
33cl – €4,70
Fresh yeast, pine, leaves and peanuts. Bubbly head leaves layers in the glass and it's pretty heavily carbonated. Very nice dry taste with a lingering acidity to balance it. 
Bush Triple - 10.5%
Dubuisson
33cl – €4,50
The use of traditional malt varieties and the Saaz hops gives this beer its clear blonde colour. It has a subtle, but at the same time very well- balanced, palette of aromas and tastes.
Corona Extra - 4.5%
Ab Inbev
35,5cl – €6,30
Born in Mexico and brought up on the beach, Corona is the perfect compliment to life's simple pleasures. The golden colour, light refreshing flavor and iconic hand painted bottle.
Cuvée Sœur'ise - 8.5%
Brasserie De Leite
33cl – €8,20
The brewers use lactobacillus to create a breeding ground in the oak wine casks. They then roll 40 kg cherries through the narrow opening in the barrels into 170L Enfant Terriple.The yeast needs 5 months to break down all the sugars and for the gentle acidification process to work its magic.
Green Killer IPA - 6.5%
Brasserie de Silly
33cl – €3,60
It's a blond beer which is well balanced between malts and hops. They use the dry-hopping process. Green Killer presents some notes of citrus and spices.
Hopus - 8.3%
Lefebvre
33cl – €4,00
It has a unique and original nose, a blend of vegetal, citrus and fruit notes. The attack is bold, with an intense bitterness accompanied by a plethora of hopped notes.
Liégeoise - 6%
Brasserie la Botteresse
33cl – €5,40
According to an original recipe, the Liégeoise 1892 is a Premium Beer. Blond but slightly cloudy, with character but light and easy to digest, it combines the freshness of a thirst-quenching beer with the taste of a special beer.
Martin's IPA - 6.9%
Anthony Martin
33cl – €4,50
A full feeling in the mouth thanks to the outspoken bouquet of hops. A powerful bitterness at the start, followed by an ever so slight peppery after taste.
Omer - 8%
Omer Vander Ghinste
33cl – €4,20
It contains carefully selected ingredients, such as high-quality malted barley from the Loire region and three varieties of aromatic hops. Full flavoured beer with a fruity aroma and a subtle bitterness.
Petrus Aged Pale - 7.3%
De Brabandere
33cl – €4,90
Petrus has been elected several times as the best wood-aged pale-ale of the world. Its refreshing sour taste is due to the maturation process of 18 months in oak wooden barrels.
Queue De Charrue Ambrée - 5.5%
Vanuxeem
33cl – €3,10
Its beautiful orange colour and its fine but dense froth gives it a light body. Its fruity finish will delight you with its refreshing character.
Rasta Troll - 7%
Dubuisson
33cl – €5,80
Created in 2018, The Rasta Troll is a cuvée des Troll enriched with natural aromes of brown rum. Ultra refreshing, it is to be tasted in its green frozen bottle.
Saison St. Feuillien - 6.5%
St-Feuillien
33cl –€3,70
Saison, a warm golden blonde ale, is a top-fermented classique. Thanks to secondary fermentation in the bottle, Saison has an unmistakable flavour full of rich nuances and a slight tang.
Tongerlo Prior - 9%
Haacht
33cl – €4,70
A full-bodied beer with fruity notes that develop into a spicy and slightly flowery bitterness of hops: the age-old tradition of the White Canons of Tongerlo lives on in this Belgian abbey ale.
Viven Porter - 7%
Viven
33cl –€4,20
Viven Porter is a fairly bitter porter beer, smoked to produce grand flavours . Is for the beer connoisseur a remarkable piece of craftmanship compiled into a single glass of beer. The finesse in the finish and creamy crown make many mouths water (or better: 'beer').
Rulles Blonde - 7%
Rulles
75cl – €12,00
Out of the vats in May 2000, it was probably the first Belgian beer brewed only with American hops. Never excessive and always surprising, it is La Rulles de Gaume, this magnificent region with a strong identity located in the south-east of Belgium. She remains the big sister of a large family that followed her.
Rulles Estivale - 5.2%
Rulles
75cl – €12,80
In 2004, the fourth anniversary beer, which they decided to keep, became the following year Estivale. With its citrus notes and great freshness, it is a pioneer of light beers with great character.
Chouffe Blonde - 8%
Duvel Moortgat
75cl – €9,80
Spicy, fruity and yeasty aroma. Fruity, yeasty and complex flavour. Tastes of particularly spicy, citrusy, perfumy hops against some sweetish, light malts.
Caulier Blonde Gluten Free - 6,8%
Brasserie Caulier
33cl – €5,70
This excellent beer by Brasserie Caulier was created specially for gluten intolerants and is 100% gluten-free. Pouring hazy blonde capped by a generous creamy white head. Its aroma is full of vibrant fruity notes, in particular citrus, and herbal and floral scents.
Delirium Masque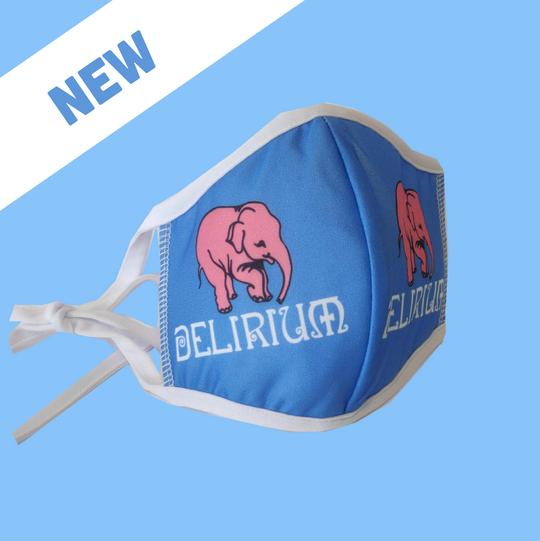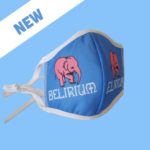 €8,00
Delirium T-Shirt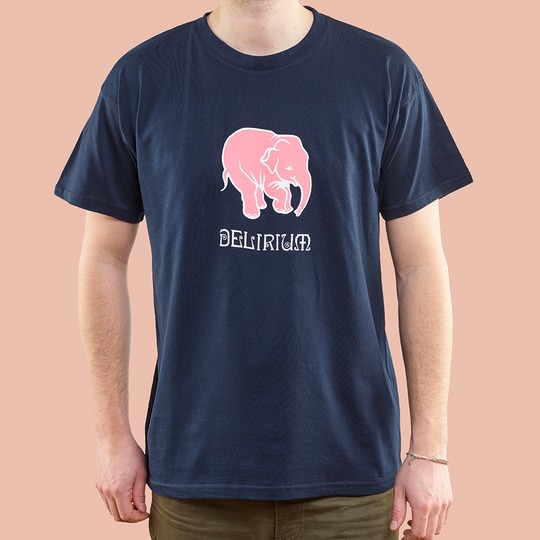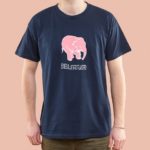 €20,00
Delirium Café Menu Book 2019-2020
Delirium Elephant Hat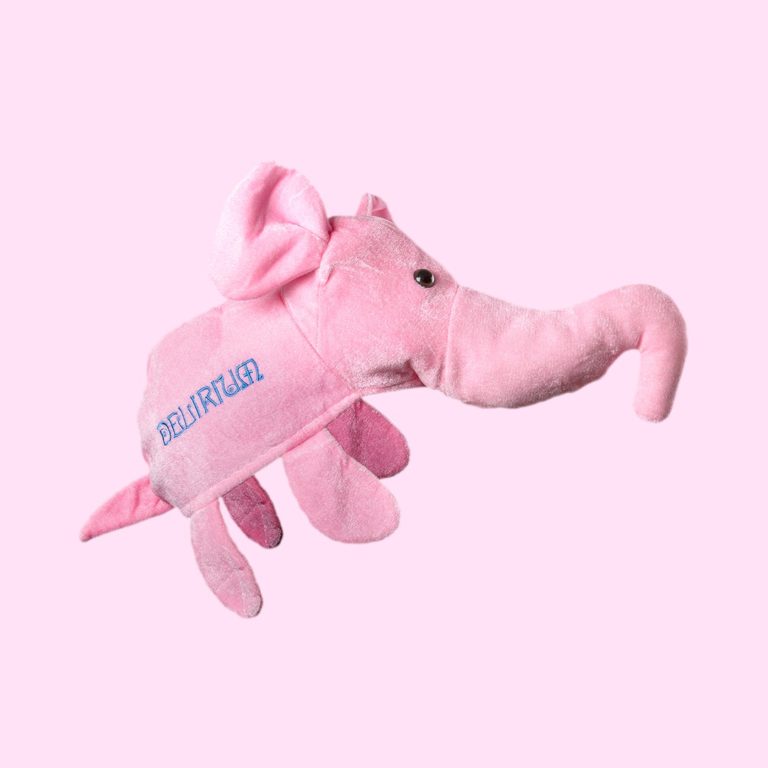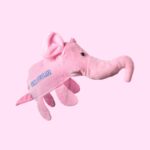 €12,00
Delirium Bar Runner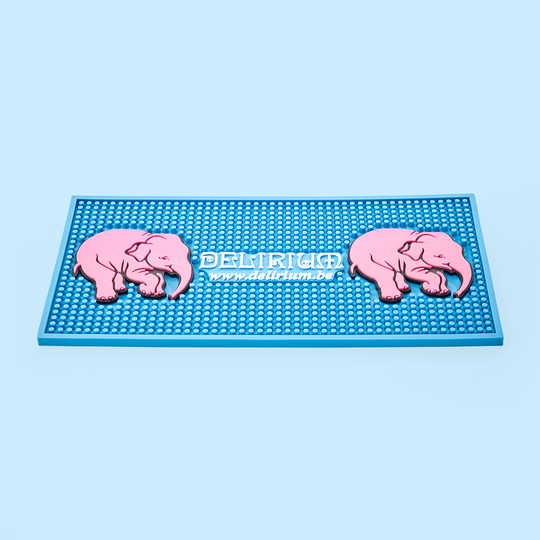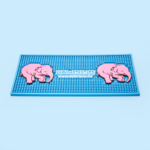 €20,00
Delirium Café - 10 Years Hat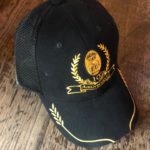 €19,00
Delirium Small Plushie Elephant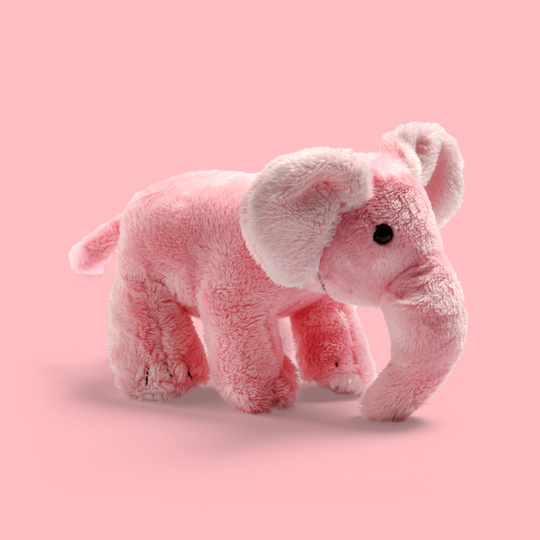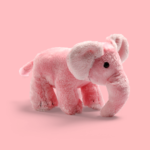 €7,00
Delirium Towel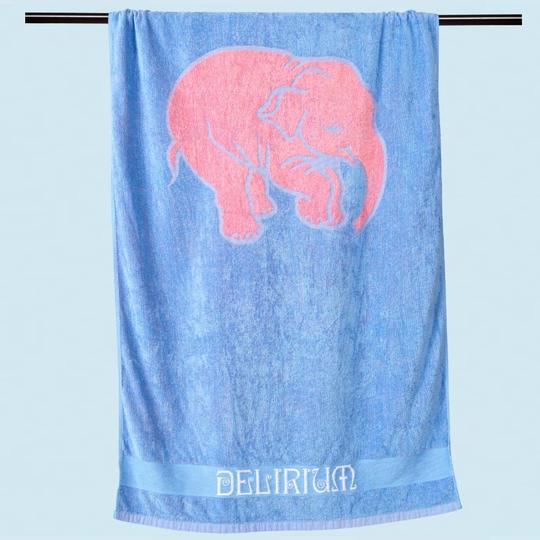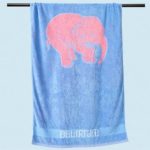 €35,00
Delirium Suspenders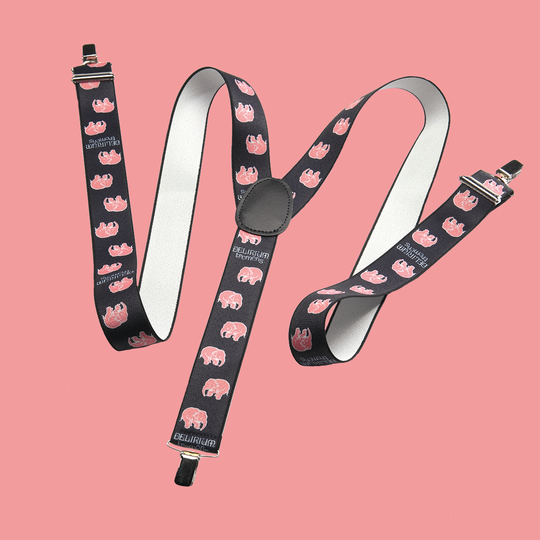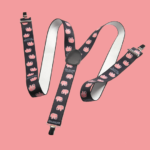 €20,00
Delirium Glass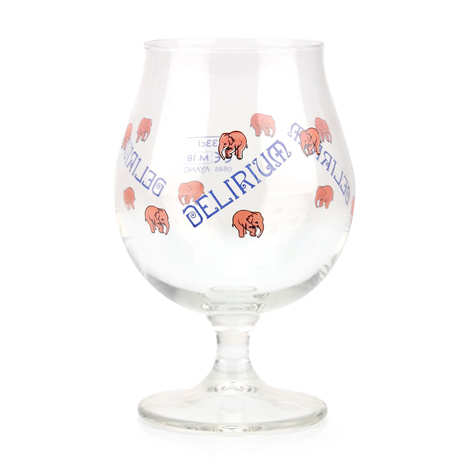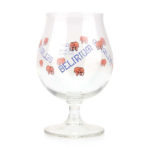 €5,00
Delirium Pin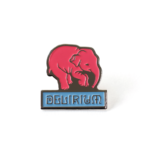 €5,00
Delirium Bottle Opener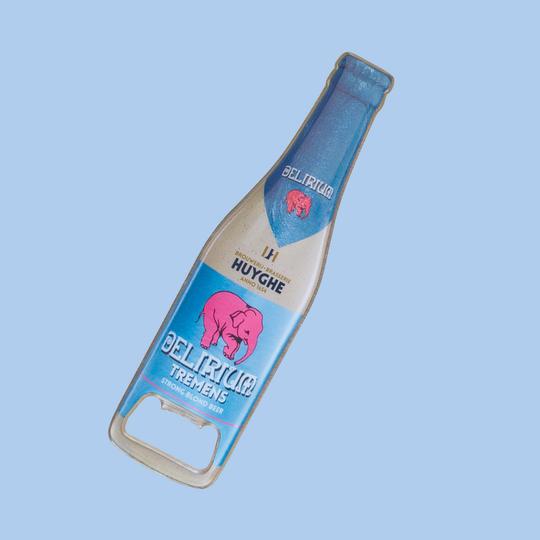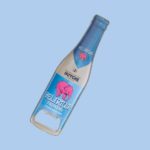 €8,00